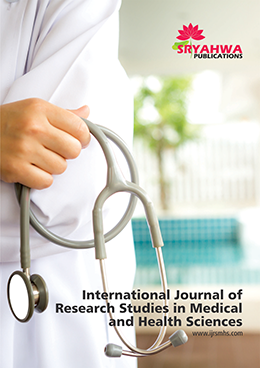 Welcome to IJRSMHS
International Journal of Research Studies in Medical and Health Sciences is an international open access journal that shares the scientific information to global research community on online podium. We have vast medical disciplines such as Allergy & Immunology, Anesthesiology, Surgery, Dermatology, Emergency Medicine, Family Medicine, Internal Medicine, Neurology, Nuclear Medicine, Obstetrics and Gynecology, Orthopaedics, Otolaryngology, Pathology-Anatomic and Clinical, Pediatrics, Physical Medicine and Rehabilitation, Psychiatry, Oncology, Radiology, Urology and more. We publish all kinds of Original/ Research, Review, Case Report, Short Reports and Editorial Articles.
IJRSMHS aims to publish most quality research work which is undergone through thorough quality check peer review process.
IJRSMHS considers only original works that are not published elsewhere with any publication organization. All the submitted articles must follow the ethics and policy of IJRSMHS.
Recently Published Articles
Urinary Organic Acids in Patients with Single mtDNA Deletions

View | Download | 01-03


The Relationship between 25-Hydroxyvitamin D3 and CRP Levels in Obese Adolescents with Insulin Resistance

View | Download | 04-10


Phenomenological Study about the Interest and Motivation of Physicians Residing in Pediatrics: Perception of the Preceptor

View | Download | 11-16


The Evaluation of Seasonal Influenza Vaccination Rates of Patients in Risk Group and Factors Affecting Influenza Vaccination Rate

View | Download | 17-20


Medical Tourism Has Become a Phenomenon

View | Download | 21-25